Boise ID Family Law Lawyer
Family law cases can be some of the most stressful and emotionally challenging legal matters anyone has to face. By definition, they extend to the individuals closest to someone and often include partners and children.
These cases impact not only the present, but can affect people long into the future, and the outcomes of specific actions can have far-reaching effects, making it all the more important to get them right.
Those involved in such cases could be forgiven for requiring additional support. Tempers may flare, and emotions run high, but a Boise, ID family law lawyer can provide not only legal expertise but clear thought, guidance, and support.
Our Idaho family law lawyers work across a range of practice areas to ensure you receive the personal touch and the backing you deserve to traverse these inevitably challenging circumstances as comfortably as possible.
No matter which aspect of family law you have to deal with in Boise, ID, we're available to help.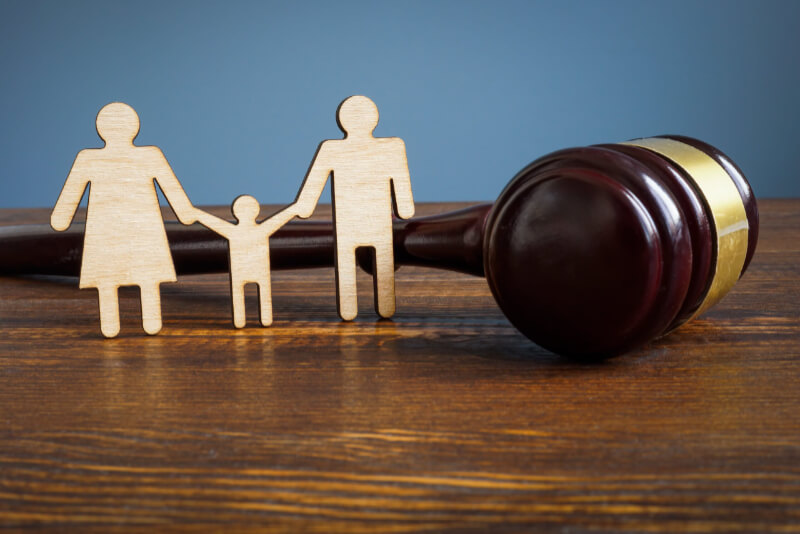 What Can Idaho Family Law Lawyers Help With?
Family law is a broad legal practice area, and no two clients are ever the same. A family law lawyer will boast experience in numerous practice areas to ensure favorable outcomes no matter the family law case at hand.
A family law lawyer will offer more specific advice as part of the free consultation. However, some family law matters are more common than others.
Divorce is among the most common family law matters of all. Typically, both parties will appoint a lawyer, often with the goal of putting together a settlement plan that means they avoid going to court.
As well as coming to a satisfactory agreement for both parties, a divorce lawyer will provide a legal perspective on considerations involved with the end of a marriage, such as child custody, spousal support, and pre- and post-nuptial agreements.
As if divorce alone was not stressful enough, former spouses will often need to consider the division of assets.
Idaho is a 50-50 state, meaning that community property is split evenly. This is in contrast to states that use an equitable distribution model, where former spouses divide their assets based on what is fair rather than what is equal.
Even something that sounds as simple as an equal split will require a consultation with an attorney, as it is rarely as simple as it sounds.
Even something that sounds as simple as an equal split will require a consultation with an attorney, as it is rarely as simple as it sounds.
Community property covers everything a married couple acquires throughout their legal relationship, even if only one person's name appears on a title, deed, or registration certificate. It also extends to everything purchased as a couple, from major purchases like homes and cars to anything contained within the family home.
Crucially, it also applies to debt. As well as more obvious joint debts like mortgages, it also covers credit cards, loans, and other forms of debt that may favor one partner over the other.
Separate property covers anything that either spouse owned prior to getting married. This often means cars, companies, and property but may apply to anything that entered their possession without spousal support.
Some items are considered separate property under Idaho law, even if a couple was married at the time of receipt. This usually applies when something entered one partner's possession, specifically, such as an inheritance or gift.
There are also legal considerations around debt. Any debt incurred before a couple met, such as on credit cards or as student loans, remains the sole responsibility of the individual in question.
The law in Idaho also makes special consideration for addiction-related debt. If one spouse enters debt due to drugs, gambling, or any other form of addiction, that obligation remains theirs alone so as not to unfairly disadvantage the other partner.
Essentially, while Idaho being a 50-50 state makes asset division sound simple on the surface, there are numerous gray areas and a consultation with a Boise, ID family law lawyer is highly advisable for a fair and legal outcome for all involved.
A family law lawyer can also assist clients in submitting their legal resolution to asset division. Ideally, a couple will decide upon the division of community property between themselves and their lawyers. If an agreement is reached, the details are recorded in a Marital Dissolution Agreement and submitted to the courts.
In cases where an agreement cannot be reached, an Idaho court will decide on what constitutes community property, its value, and the specifics of the split.
When property and assets have been decided, there may still be a requirement for additional spousal support. The goal behind such awards is to ensure that neither party is financially disadvantaged following a divorce.
While asset division typically splits up existing assets, spousal support, also known as alimony, is often decided with an eye on the future. One party may have to pay spousal support to the other while the divorce is pending but the final terms may not be confirmed until the divorce is completed.
As with assets and property, it is possible for a divorcing couple to reach an agreement on this matter without assistance from the courts. However, if no such agreement can be reached, it becomes a legal matter.
Spouses, lawyers, and judges will consider the following when deciding on amounts of spousal support:
The respective incomes of both spouses.
The earning potential of each party, particularly if it differs from their current salaries.
Any costs associated with maintenance of the family home and additional assets divided as part of the settlement.
Education levels of both parties.
Any time spent out of the workforce during the marriage, such as time spent raising a family.
It is vital to remember that spousal support is not designed to be a punishment. Whether negotiating directly or the case goes to court, both parties should be prepared to accept that the ultimate goal is to ensure that both spouses can maintain something close to their current lifestyle.
Fairness is, of course, subjective, and so it makes sense to involve a Boise, ID family law lawyer in alimony discussions.
Prenuptial agreements were once associated with wealthy couples. However, with more people aware of the potential complexities involved with divorce, an increasing number choose to handle the division of assets in advance, should the worst happen.
It's worth consulting family law attorneys for numerous reasons when considering this course of action, but it's important to consider that they can be useful for more than just property division between a couple.
These agreements can also be used to plan ahead for future property, such as inheritances for children from previous relationships or retirement accounts.
Such agreements are not for everyone, but they represent an opportunity for a couple to plan for if the worst happens when both are on good terms.
Annulments are similar to divorces in that they mark the legal end of a marriage, but they are often used when a divorce would be inappropriate.
Grounds for annulment in Boise, ID include:
One partner remains legally married to another living person.
Either participant was of unsound mind at the time of marriage.
One spouse used force or fraud to arrange the marriage.
Either spouse was physically incapable of getting married.
Annulments require specialist family law lawyers just as much as divorce, not least because a successful annulment under Idaho law requires filing a petition for annulment, which is a legal document that explains the legal basis for separation.
Many of the same considerations involved in the divorce process also apply to an annulment, such as child support, spousal support, child custody, and property division.
Child Support and Child Custody Matters
Custody laws
in Boise, ID come in two forms, including both legal and physical custody. In the simplest terms, the former determines who is responsible for the child's well-being, including making decisions related to their health.
Physical custody typically refers to a minor's living arrangements, as well as visitation rights.
Child support and child custody matters are often closely linked to divorce and annulment, but this is not always the case.
For example, if one parent dies, the custody arrangement generally passes responsibility on to the surviving parent. However, when children lose both parents, or one is unable to provide adequate guardianship, custody can soon become a legal matter.
Ultimately, and particularly in cases where there is no legal document such as a will to state otherwise, an Idaho probate judge may be compelled to decide who raises a child based on their view of a minor's best interests.
Paternity Tests and Other Paternal Issues
Idaho law allows for two different paternal statuses, spanning both legal and biological parentage. The same law dictates that a father to a child born in wedlock is automatically assigned both statuses, assuming neither parent disputes it.
However, unmarried couples are not afforded the same automatic rights. Indeed, if someone fathers a child with someone to whom they're not married, they are not legally recognized as the father until their role is officially acknowledged in an Idaho court.
This can lead to multiple complications under the family law section of Idaho's legal system.
Only legally-recognized fathers are subject to Idaho's child support laws, for example.
Even in cases where both couples were married, if a family breaks up and the father isn't recognized in law, they can legally avoid child support, although they also have no legal right to child custody.
Paternity law can quickly become complex and emotionally debilitating, making it all the more important to seek out the services of a Boise, ID family law lawyer for advice and representation.
Modification and Enforcement
Not all family law matters reach an amicable resolution, especially in divorce cases. On some occasions, what was suitable at one time may not be ideal now.
The divorce process seeks to bring finality to a relationship, but usually involves future guidance based on the laws of Idaho. For example, one partner may have a legal right to custody on specific days, or a partner may be required to pay a certain amount of spousal support on a defined schedule.
Ideally, the worst that one of our clients may encounter is the need to modify an agreement. While a divorce is a stressful and life-changing event, it should not define how either party moves forward after the fact.
Most requests for modification of a court order involve children and may include:
A parent with custody rights moving away from their previous home, disrupting travel between family homes.
A parent's other commitments make an existing custody arrangement unsuitable.
Getting remarried.
A change in job arrangements.
It is also important for those that agreed to a prior arrangement to keep up with their commitments following a divorce. Failure to do so may require enforcement action and as this is a legal issue in Boise, ID, it makes sense to hold a consultation with a family law lawyer to explore your options.
The most common case requiring further enforcement involves child support orders. The enforcement process may include:
Intercepting payments, refunds, and benefits.
Garnishing wages and financial accounts.
Informing credit agencies of missed payments.
Suspension or revocation of professional licenses.
In the most serious cases, an offender may be found in contempt of court, potentially leading to prosecution, fines, and even jail time.
What Your Boise, ID Family Law Lawyer Can Do For You
As such, a Boise, ID family law lawyer can carry out a number of tasks that would otherwise be challenging when tackled alone. Appoint family lawyers from our Idaho Divorce Law Firm and you can expect:
Rigorous and aggressive defense against litigation and other accusations
Someone that can offer advice and support on child custody legal matters
Legal insights into nuptial agreements during a divorce
A strong attorney-client relationship where every decision is taken in your best interest
Personal and emotional support for your well-being during challenging family matters
At our firm, our Boise team treats every client as an individual and understands that there is no textbook way of dealing with a family law case's challenging emotions and stress. Our lawyers will always work on your behalf to reach the best possible outcome in every case.
Indeed, we see each client as being part of a team, alongside our family law lawyers. Both parties always pull in the same direction and work to ensure that a potentially strenuous time becomes as comfortable and manageable as possible.
Why a Dedicated Idaho Divorce Law Firm is Right For You
When it comes to Boise family law issues, it is always best to work with a dedicated attorney. Like any lawyer, your representative will understand your individual needs and concerns when dealing with family law matters on your behalf, but there is much more to selecting the right representation during an emotionally difficult time.
It goes without saying that the best family law lawyers in Boise, ID understand family law better than anyone else. The team at our law firm boasts combined decades of experience in the Idaho legal system and is proud to put this experience in legal issues at the full disposal of our clients.
However, it is also vital for family law lawyers to approach cases sensitively and with a personal touch. Family law matters can often involve children, whether that means a child custody arrangement, adoption, or anything else. That can make a family law issue particularly emotional.
In such cases, you require a Boise, ID family law lawyer that not only understands the sensitive nature of a family law case but can advise and defend you under more strenuous circumstances.
Contact an Idaho Family Law Attorney Today!
We know that legal matters involving family are often uncomfortable and difficult to face alone. That's why when residents of Boise, ID work with Idaho Divorce Law Firm, they can be assured of first-class service with a personal touch.
We strive to make even the most complex family law cases as manageable as possible and endeavor to ensure everyone we work with has access to expertise and vast experience, safe in the knowledge that their lawyer is every bit as interested in a positive outcome as they are.
We specialize in family law services, and no matter the specifics involved in your need for family law lawyers, we're ready to help in dealing with your case. Support in your family law issues is only a phone call away, and it all starts with a free consultation.
There, our Boise, ID family law lawyers will work to understand your circumstances and discuss how Idaho Divorce Law Firm, the leading Idaho divorce law firm, can best serve you. Contact our Boise, ID office today at 208-314-3302.